Law Enforcement Resume Sample
Here you can view a 2 page professional Law Enforcement Resume template that was written by a professional resume writing service. You may use the format for your Law Enforcement Resume. This resume highlights specific traits up top in a grey area that grabs the attention of the employer immediately. The highlight of expertise summarizes important achievements worth noting. The professional experience is followed to include positions and companies held along with the dates. The training and education is followed to include all relevant training, certifications, etc. such as Paramedic school, CPR courses, EKG courses, etc.
Page 1 Professional Law Enforcement Resume Template
It is important to provide a professional resume when hunting for a career in law enforcement. This 2 page resume will help summarize you law enforcement experience and education is a clean and concise manner. Take your time when editing this template and be detailed to give the employer a reason to follow up with you.
You may purchase this resume template in Microsoft Word format for just $20.00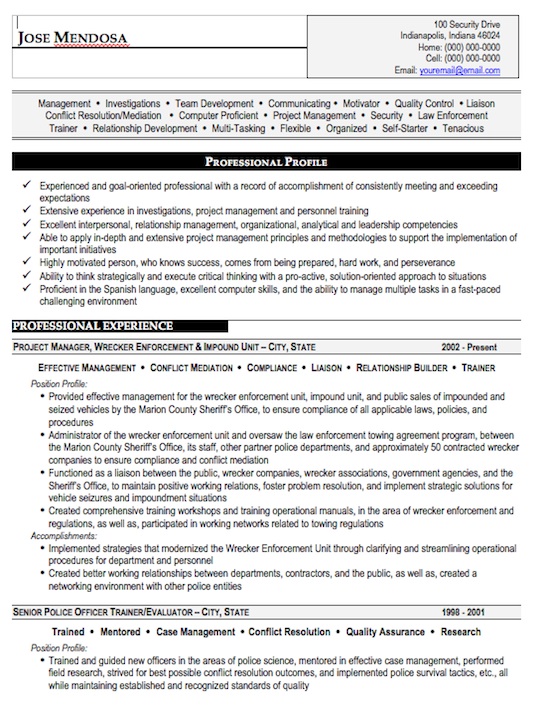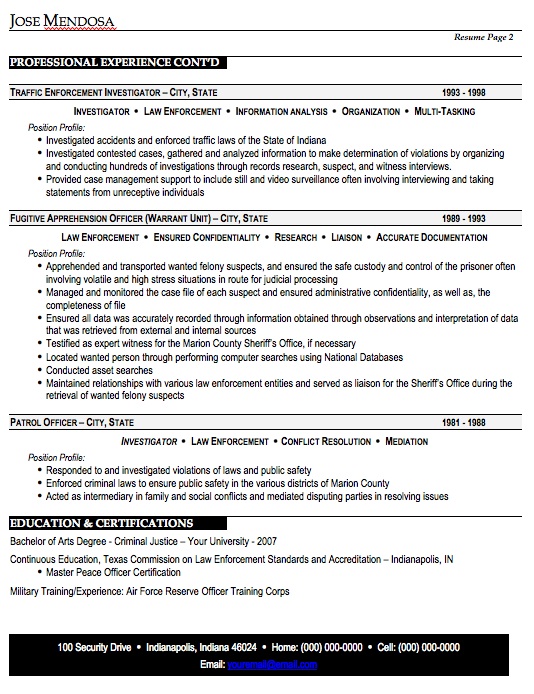 You may purchase this resume template in Microsoft Word format for just $20.00
Testimonials from Job Seekers Who Purchased Our Law Enforcement Template:
"Unfortunately I was laid off after 7 years and haven't been in the job hunting market in a while so I was extremely rusty. I couldn't even find my old resume so tried to write one myself and it just wasn't happening. The $20 for this template was money well spent. I downloaded the Template and make several modifications to tweak it to my profile. It was pretty easy in Microsoft Word."
"Easy way to produce a professional resume for fellow officers without stressing out over writing one."
Professional Resume Samples