Sales Manager Resume Sample
You may purchase this resume template in Microsoft Word format for just $20.00
Our sales manager resume is a great resume for sales professionals of all level. The resume is a clean two page professional format that features professional experience as the most important part of the resume. The resume can be trimmed to one page if you have entry level sales experience.
The resume starts out with a professional profile that has a goal of providing an image to the employer right off the bat. Strong keywords are thrown in here that employers look for.
The resume continues with professional experience where you can get very detailed on each job you have had. We recommend that you formulate this part of your resume to the job you are applying for. For example if you are looking to be a sales managers at a car dealership, than stick to your car sales experience while leaving off experience you may have in computer sales.
Professional Sales Manager Resume Sample Page 1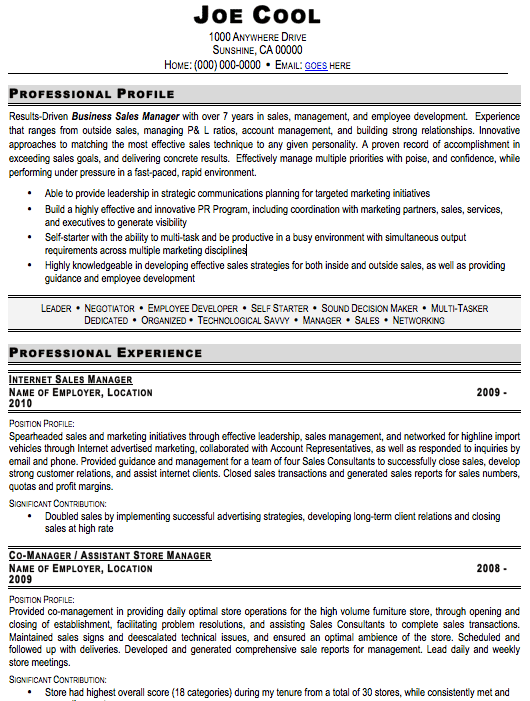 Professional Sales Manager Resume Sample Page 2
Page 2 continues in this same format and ends with your education. If you have extensive sales education, than you will want to get more detailed in this section. But as we have stated, sales employers are looking for candidates with relevant experience.
You may purchase this resume template in Microsoft Word format for just $20.00
Professional Resume Samples
Testimonials from Job Seekers Who Purchased Our Sales Manager Resume Template:
"This is a great resume for a person looking for a job in sales. Took me about 1 hour to customize to my background and that's it.