Military Resume Sample
Right off the bat you can see this professional military resume template is very clean and easy to read. Most resumes seen in the military have been reported as poorly written and formatted. A professional resume writer wrote this resume specifically for a military applicant. The format is a 2-page resume to include all the military experience that is necessary for the position you are applying for. It is very important that you go over the resume and fill in as much of the experience as possible. If you do not have a lot of experience than this resume can be trimmed down to just one page. This resume will stand out from the thousands of applicants in the military market giving you a better shot at moving forward.
You may purchase this resume template in Microsoft Word format for just $20.00
Page 1 Professional Military Resume Sample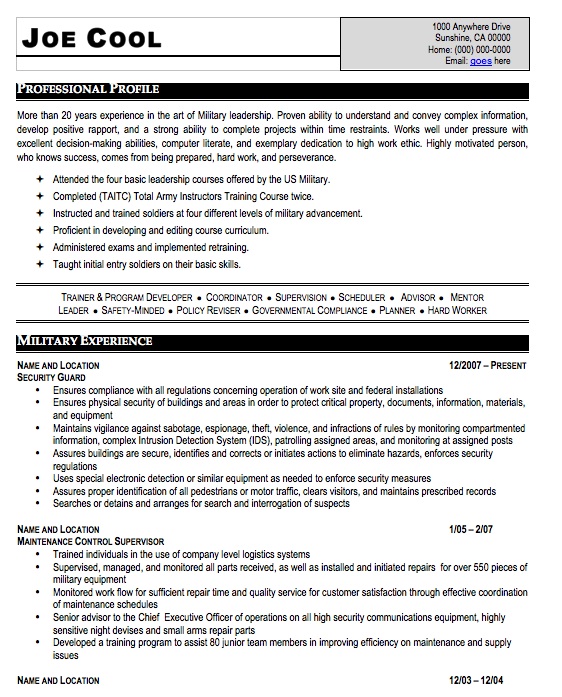 Page 2 Professional Military Resume Sample
Page 2 of this military resume goes on to expand on the important military experience, followed by education and any awards or recognitions that you think are relevant to the position applying for. Take your time when editing this resume. It is very easy to work with and you will save a great amount of money by using this template over hiring a professional resume writer to start one from scratch.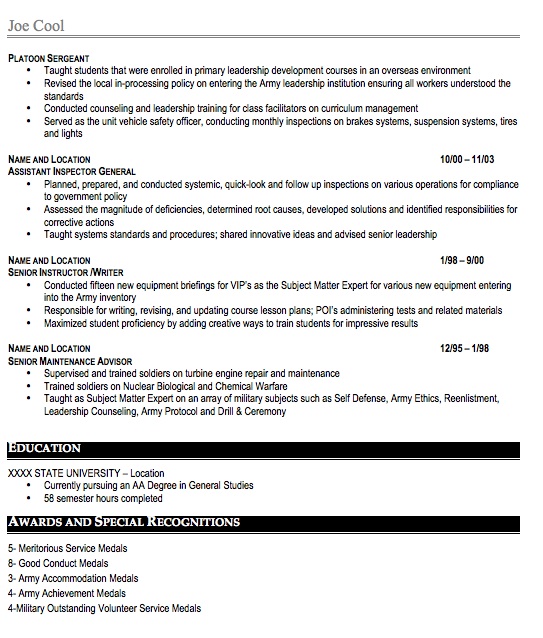 You may purchase this resume template in Microsoft Word format for just $20.00
Professional Resume Samples
Testimonials from Job Seekers Who Purchased Our Military Resume Template:
I was looking for a good format for my resume to apply for a military officer. I came across this resume in a search and it worked out great. I edited the resume in about 20 minutes and was sending it to my military recruiter to get the process started shortly after. You canŐt beat this format if you are looking for a career in the marines!
This resume was exactly what I needed. I had no idea how to write one and resume writers wanted $400. CRAZY!
I found this resume to be very elegant and easy to work with in Microsoft Word. I recommend going this route.
Nice resume and works! Go Navy!!