Librarian Resume Sample
Here you can view a professional librarian resume template that was written by a professional resume writing service. You may use the format for your librarian resume. The professional librarian resume is 2 pages and written in Microsoft word. It featured a clean librarian layout that demonstrates professional experience in detail.
The first page of the librarian resume features a career objective, summary of qualifications, core competencies, certifications, educational profile and the start of your professional experience. Each section is broken down is a clean format that is easy to read. It is important that you expand on your professional experience as much as possible to display your background completely to a potential employer.
You may purchase this resume template in Microsoft Word format for just $20.00
Page 1 Professional Librarian Resume Sample
Page 2 Professional Librarian Resume Sample
Page 2 of the librarian resume sample expands on the professional experience going back as far as you think is relevant for the position you are applying for. In some cases over 20 years will worth you getting into detail about. You may than follow your professional experience with professional affiliations, professional development highlights such as web development and presentations you have done. This sample librarian resume is ready to go and be edited to your profile.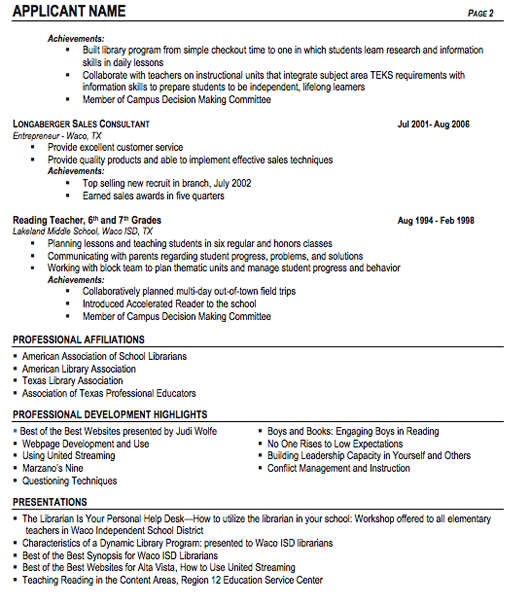 You may purchase this resume template in Microsoft Word format for just $20.00
Professional Resume Samples
Testimonials from Job Seekers Who Purchased Our Librarian Resume Template:
I lost over $200 by hiring a professional resume writing service to write my resume. They did a horrible job and let's face it they don't really know enough about my profession or my experience to really nail down a resume. Instead I bought this AWESOME Template for only $20 and spent about an hour formulating it to the job I was applying for. I know my work experience and job history best, so filling in this resume template was easy. I hope this helps someone from making the mistake I did and you are better off just using this template and formulating it to yourself.
"This resume format is exactly what I needed. For only $20, I purchased this librarian resume and edited it to include my experience and information. In about 30 minutes I had a professional resume without having to pay a professional resume service or purchase the software!"
"Glad I found this site! The template was perfect and easy to use. I just opened Microsoft Word and edited it to include my data. The 2 page format was elegant and had several employers compliment the resume compared to what they normally see. I highly recommend you purchase this template if you are looking for a librarian type job."
"Great Resume. Canít beat the price and quality."
"We all know this job market is tough. But this resume has landed me several interviews. I do need to work on my interview skills though. But the resume was easy to work with. I recommend printing it out on high quality cotton type paper. Goes much further."