Teacher Resume Sample
Our teacher resume template was especially formatted for new and long time teaching professionals. The resume is elegant and a strong one page format. The resume starts out with the important professional profile. A strong characterization of yourself on paper is important to schools and education institutes. This will help employers visualize who they are hiring before they call you in for the interview.
The next section goes in your training, education and certifications. The layout is very clear and concise to present each type of educational background.
While professional experience is usually a big part of any resume, we don't focus on it as much in the teacher resume. We do provide the schools and educational institutes worked at, but that is as much details as necessary. We have found that the professional profile for the teachers is far more important that elaborating too much on the professional experience. If you decide to go further into your prior jobs and experience than we recommend making this a 2-page resume by expanding it down from the experience.
You may purchase this resume template in Microsoft Word format for just $20.00
Professional Teacher Resume Sample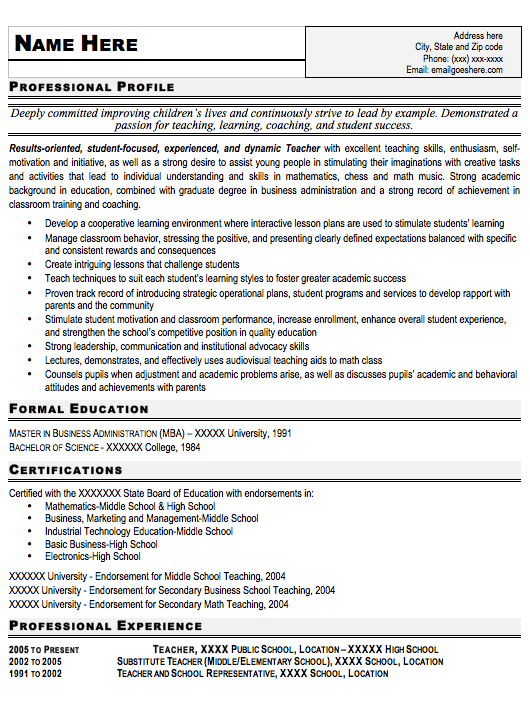 You may purchase this resume template in Microsoft Word format for just $20.00
Professional Resume Samples
Testimonials from Job Seekers Who Purchased Our Teacher Resume Template:
"I bought this resume template as soon as I graduated from college with my degree in education. As a teacher, I should be able to write my own resume, but this template saved me a ton of time and for only $20, it was a no brainer."
"This is a great resume for all teachers. I like the fact that the resume focuses on the profile of the applicant and not too much on all the other stuff that education professionals do not want to see."
"Easy template to work with. I recommend it for teachers."